New Year, New Ideas
Dec 29, 2018, 11:53 AM
It's a new year and we've got a few new ideas to inspire your living situation. With a fresh spin on a popular idea the Salt Lake Home Show brings you themed sheds from Wright's Shed Co. to satisfy all of your lifestyle needs. Featured this season will be
The He Shed
styled by Jessica Rivera of Jessica Rivera Interior Designs,
The She Shed
styled by Emilee Shelley of Salt Washed Co. and
The Office Shed
styled by Mindy Galanis of Eastmoor Designs.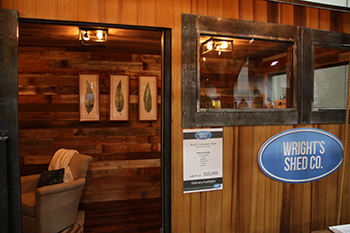 A shed can be so much more than just a shed. Imagine the possibilities when you give it a theme or designates it to a specific hobby. A shed could be an art studio, a man cave, a space to organize your gear, a sewing studio, maybe a video game lair. Get creative, have fun and always express yourself!
Each of the featured designers has a unique style. Jessica has been styling her whole life, starting with Barbie dreamhouse masterpieces. Emilee brings us vintage goodies, handicrafts and class. Mindy is a mom of twins and a design pro that studied interior design in London. It will be really exciting to see what they each come up with for their themes.
Find the shed of your dreams at the Salt Lake Home Show presented by Mountain America Credit Union, January 11–13, 2019. If you would like to do your homework, visit Wright's Shed Co. here:
https://www.wrightsheds.com/
For more from our local pros, visit them online:
• Jessica Rivera of Jessica Rivera Interior Designs | @jessicariverainteriors
https://www.jessicariverainteriors.com
• Emilee Shelley of Salt Washed Co. | @saltwashedco
https://www.saltwashedco.com/
• Mindy Galanis of Eastmoor Designs | @eastmoordesigns
http://www.eastmoordesigns.com



JANUARY 11-13, 2019.
MOUNTAIN AMERICA EXPO CENTER