Old House, New Ideas
Dec 31, 2018, 12:01 PM
You know him as one of the hosts of PBS's
This Old House
and
Ask This Old House
. However, do you know the story of how Kevin O'Connor came to be
the
Kevin O'Connor?
He grew up working on various job sites led by his father, a civil engineer. As a result, O'Connor developed a life-long passion for home improvement. He was a longtime fan of the PBS show
This Old House
. So, naturally when he and his wife Kathleen were fixing up their first home, they decided to reach out to the professionals over at Ask This Old House for advice. He was pleasantly surprised to find that call had been his first screen test to serve as a third host on the show and it's all history from there.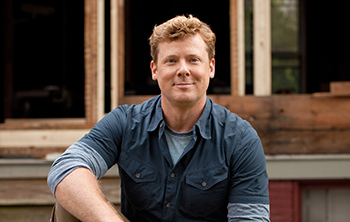 O'Connor has since been nominated for an "Outstanding Service Show Host" Emmy Award for his debut season. He is an avid traveler, a TV show host on PBS and DIY Network and a published author. We're excited to learn more about his experiences at the Salt Lake Home Show presented by Mountain America Credit Untion, January 11th-13th.
Q & A
Q: What is a common mistake homeowners make when they take on a home improvement project themselves?
Kevin
: "Without fail they underestimate the time and money it will take and overestimate the amount of work they want to do themselves. I guess we're all optimists when it comes to renovation when we should all be skeptics."
Q: What project have you been most proud to work on?
Kevin
: "I'm fortunate to have a few top candidates for that list but the most rewarding was our recent Detroit project. It's a great city that had decades of hard times and when we got there we saw the city rising again. The people from Detroit had so much heart, persistence and pride, and they all came together to rebuild their neighborhoods. It was inspiring."
Q: Where do you go online to find inspiration?
Kevin
: "I read more than I watch online. I consume a lot of news despite how painful that is these days. I also like long form articles and non-fiction writing that blows your mind with new ideas and stories of people changing the world."
Q: Would you rather upgrade your closet, bathroom or kitchen?
Kevin
: "The kitchen, without question. It's the heart of the home, where everyone gathers and where all our time is spent. A dollar spent there gets the biggest return in my opinion. Put your money where your life is."
Q: What are your best outdoor décor tips?
Kevin
: "Use a lot of natural materials like wood and stone, pump up the color and pay attention to lighting. Good lighting draws you outside, keeps you outside and lets you enjoy the outside from the inside. And make sure there's fire."
For inspiration from Kevin, visit him online here:
http://www.ThisOldHouse.com
Facebook:
https://www.facebook.com/KevinOConnorTOH/
Instagram: @KevinOConnorTOH host of @ThisOldHouse & @AskTOH on @PBS
Twitter: @KevinOConnorTOH host of @ThisOldHouse & @AskTOH on @PBS
Talk home restoration with Kevin O'Connor from This Old House on the Design Stage:
• Friday. January 11th at 7:00 P.M.
• Saturday, January 12th at 10:00 A.M. & 12:00 P.M.



JANUARY 11-13, 2019.
MOUNTAIN AMERICA EXPO CENTER