Catch John + Whitney Spinks at the Salt Lake Home Show!
Jan 7, 2015, 11:24 AM
John and Whitney Spinks are the ultimate home renovation team! This Midwestern couple has been together since middle school. John has a passion for construction and Whitney is a DIY guru. Their skills complement each other and made the Spinks a perfect fit for HGTV's hit show
Flipping The Block
. Since the series, they have started their own construction and design business,
27 South Design Group
, out of Jacksonville. They specialize in home staging and styling, while offering room makeovers and interior design with respect to spatial planning.
The Spinks will be sharing some of their secrets at the 2015
Salt Lake Home Show
, which takes place January 9-11 at the South Towne Expo Center. But before you see them at the show, get to know them a bit better in our interview below!
Marketplace Events (MPE): What is your design style?
John and Whitney Spinks (John and Whitney): "We tend to gravitate towards modern-eclectic design. We love bright, airy, open spaces, and love to mix new with vintage."
MPE: Can you briefly describe some of the best moments on the HGTV show
Flipping The Block
?
John and Whitney: "For us, the best moments were those of accomplishment. We were transforming spaces from filth to high-end design in a matter of days, and the best feeling was looking at our work and feeling proud of what we'd just completed. To put the cherry on top, we won half the challenges, and having our names called as the winners always felt gratifying!"
MPE: Did you learn anything new from participating in a challenge like this?
"We learned so much! One, that we can handle stress as a team very well. And two, that we are a strong, dynamic duo. The judges continued to say that we were the team to beat!"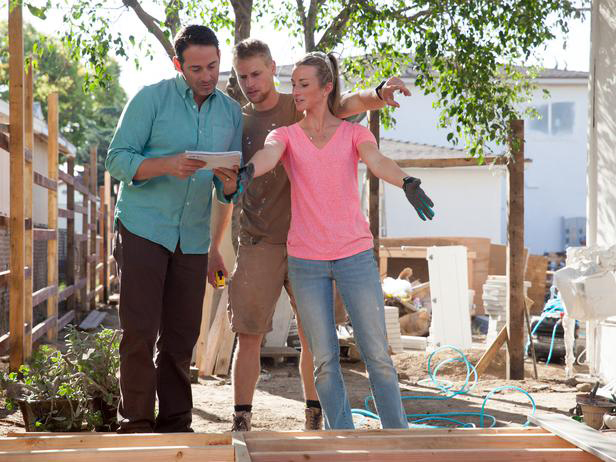 MPE: What is one piece of advice you would give to a homeowner who wants to redesign a room in his or her home?
"Choose your paint color last! There are thousands of paint colors out there, so decide on the staple pieces first and then find the paint color that plays off those pieces."
MPE: What do you plan on discussing onstage at the Salt Lake Home Show?
"Overall, the focus will be on Top Ways To Add value To Your Home. We'll start the presentation telling the audience our story and how we fell in love with design. We want them to get a good feel for who we are as a couple, (how we are a team in everything we do), and how we have followed our passion for design together. Then, we plan to focus on how to make some design decisions that add a ton of value, without spending a fortune. We'll tie in Flipping The Block to demonstrate how we implemented smart design choices to win over the judges. And we'll explain how easy it can be to add value."
Sounds like a presentation you don't want to miss! Catch John and Whitney Spinks at the
Salt Lake Home Show
, January 9-11 at the South Towne Expo Center. Buy your tickets early to get the best deals - right now you can
get two tickets for the price of one when you visit us on Facebook
! Treat a friend or family member to the show - we can't wait to see you there!